There is no doubt that Ladakh is one of the most beautiful tourist destinations in India, replete with high mountains, lakes, rivers, Buddhist monasteries and religious places.
Today I am going to tell you about 10 such places in Ladakh, which have been placed at the top of the list of tourist places in Ladakh for its natural beauty, serene natural environment and beautiful views around it.
If seen, there is not a single place in Ladakh, where after going, you will feel that I should not have come here, because every place located in Ladakh has its own importance, which has its different colors among the mountains.
The form is full of natural beauty and beautiful views around you, after seeing which you will feel as if you have come to a different world.
You May Like: 6 Best Travel Credit Cards For Travel Lovers
10. Attractive Village of Leh-Ladakh – Turtuk Village
People of all three religions, Hindu, Muslim and Buddhist live in this village. This village is situated on the banks of Shyok river, after visiting where you will get to see a very beautiful and wonderful view.
This is a village that India captured from Pakistan in 1971, which has now become a part of India.
This village is surrounded by mountains from all sides as well as is situated on the banks of Shyok river, after visiting where one feels a different world.
At present, this village has become the center of great attraction of Ladakh, to see which tourists from different regions of the country come here every year.
I sincerely hope that you will like the information given by me about "10 Major Tourist Places of Ladakh" and I hope that you will definitely visit these places after visiting Ladakh.
So if you like this information, then share it with your friends, relatives and neighbors, so that our enthusiasm increases and we can try to give you more new information.
9. Diskit Monastery – Religious Place of Leh Ladakh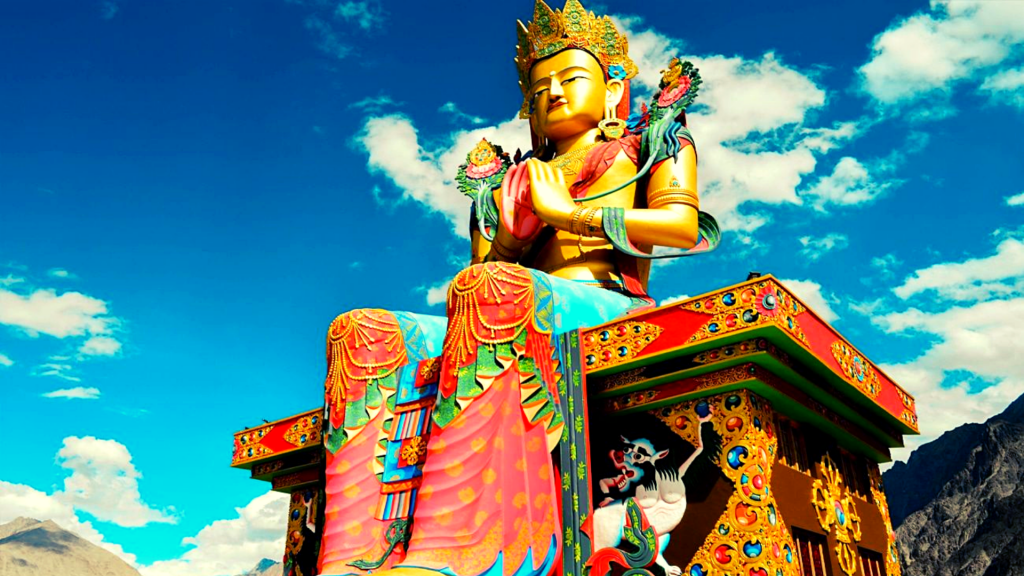 This monastery is situated in the Nubra Valley of Ladakh, situated on the hills above the village of Diskit, which is also known as "Future Buddha". This monastery is about 350 years old, in which a 106 feet high statue of Maitreya Buddha is installed. This monastery is considered to be one of the oldest and largest monasteries in Nubra Valley.
This monastery was built by Changzem Tserab Jangpo, a disciple of Tsong Khapa, in the 14th century, inside which there are different types of Tibetan paintings, which look quite beautiful.
₹ 30 has to be paid to enter this monastery and if a person wants to fly a drone here, then he will have to pay ₹ 500 separately.
8. Pangong Lake
The length of this lake is 135 km. Which is spread in both India and China. India's share in this lake is 1/3 (45 km) and China's share is 2/3 (90 km).
This lake, which specializes in changing its colors, is famous all over the country. The color of this lake is seen as blue, red and sometimes green.
Many films have been shot near this lake, but during the shooting of the movie 3 Idiots in 2009, this lake came into the limelight and in today's time this lake of Ladakh has become a center of great attraction.
The water of this lake is saline due to lack of drainage anywhere, and despite being saline, this lake freezes in winter, on which bikes and cars etc. can be easily driven.
7. TSO Kar Lake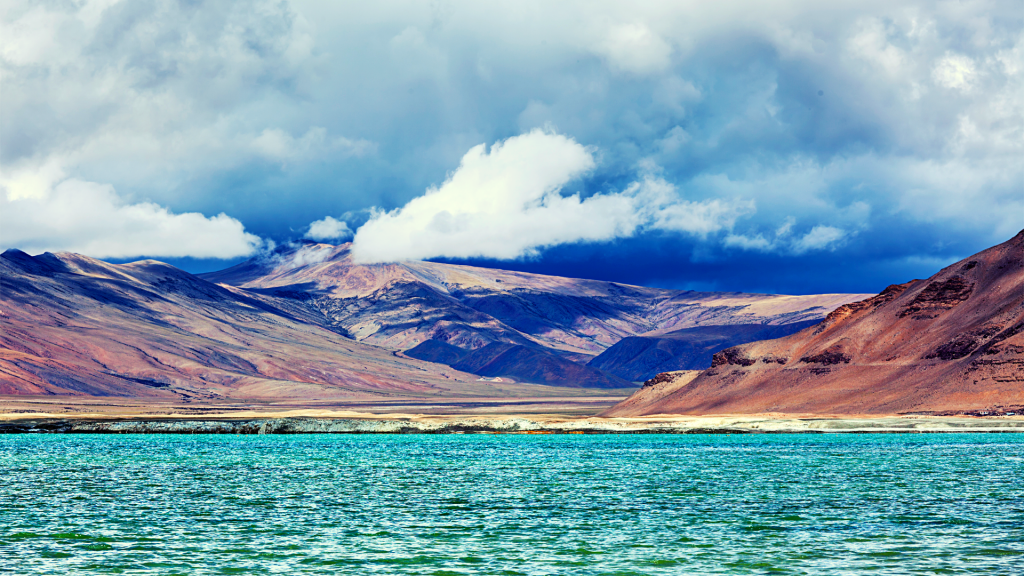 This lake is also known as "Changthang" because of its location in the Changthang region. This is the second such lake in Ladakh, which has been included in the list of Ramsar site. This lake is made up of lakes Tso Kar (salt water lake) and Staratspuk (freshwater lake).
Around this lake you can find Tibetan gazelle, Tibetan wolf and Tibetan fox as well as many other animal and bird species.
This lake is situated at an altitude of 4530 m (14860 ft) above sea level, due to which you may feel lack of oxygen after visiting here. If you are going here, then do not forget to carry medicine etc. with you to avoid altitude sickness, otherwise after going here you may feel lack of oxygen and may also be a victim of altitude sickness.
6. TSO Moriri Lake
This lake, also known as the twin lake of Pangong Lake, is located in the Changthang region of Ladakh. This lake is the first lake to be included in the list of Ramsar site in Ladakh.
The height of this lake is 4522 meters (14,836 feet) above sea level, due to which the amount of oxygen is less here and this is the reason that there is not much crowd of tourists, due to which the atmosphere here is absolutely calm. lives.
If you want to go to Tso Moriri, then you must take medicine with you to avoid altitude sickness, otherwise you may feel lack of oxygen here and you may also be a victim of altitude sickness.
5. Magnetic Hill
This is such a place in Ladakh, where you will be surprised after visiting. That is because by putting the car on the road in Newton mode without starting it, it automatically starts going towards the climb. Every year tourists from all over the country and abroad come here to see this sight with their own eyes and to know its secret.
If seen in the true sense, then the car goes downhill, but due to optical vision, tourists going here feel that the car is going towards the climb.
That is why I have included this tourist place in the list of top 10, so that after visiting the Ladakh trip, you can visit this mysterious place yourself and realize for yourself whether it really happens here or not.
4. Hunder
This place is very famous in Ladakh as well as all over India for its double humped camel found here. After going to Hunder, you can ride a two-humped camel. Apart from this, you can also enjoy activities like ATV ride (which happens on the sand) and Archery here.
3. Shanti Stupa
This Shanti Stupa is just 5 km from Leh city located in Leh district located in the Union Territory of Ladakh, India. Is located at a distance. The height of this Shanti Stupa is 11,840 feet above sea level, which is considered to be the highest Shanti Stupa in the world.
This Shanti Stupa was built together by Japanese and Ladakhi Buddhist monks to commemorate the completion of 2500 years of Buddhism.
The land purification ceremony of Shanti Stupa located in Leh was done on 8 April 1983 AD (Venbal Kushok Bakula Rinpoche), foundation on 25 August 1985 AD (14th Dalai Lama Tenzin Gyatso) and inaugurated on 25 August 1991 AD (Thikse Khenpo Rinpoche).
On climbing on top of it, one gets to see a very beautiful view of Leh city.
2. Kargil
When it comes to visiting Leh-Ladakh and Kargil's name is not there, then patriotism seems incomplete. Kargil is not only recorded in golden letters in the pages of history, but every Indian's chest widens with pride on hearing its name, because Kargil located in Ladakh was the center of conflict between Indo-Pak war in 1999 AD.
It is a district in the Union Territory of Ladakh, India, situated in the middle of the river valley of the beginning of Ladakh. It is about 215 km from Leh. and 205 km from Srinagar. Is located at a distance.
Kargil and its surrounding area is mostly famous for Buddhist monasteries.
1. Khardungla Pass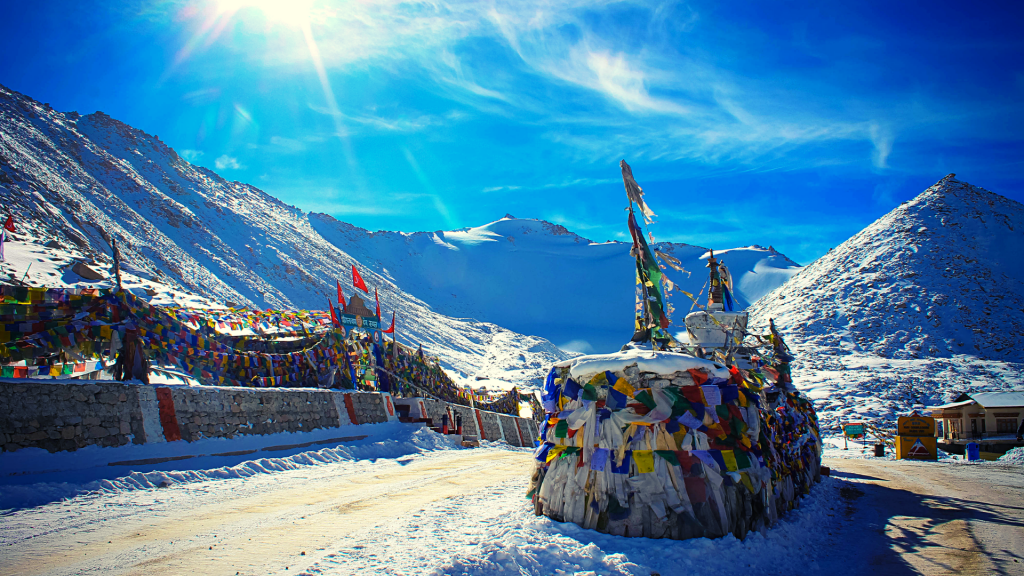 Khardung La Pass is about 40 km from Leh. It is situated at a distance of 5359 meters (17582 ft), which has also got the status of the world's highest carriageway.
War goods were also transported to China through this route during World War II. The vehicles of the Indian Army are still seen passing on this road.
To go here, you need an inner line permit, which you can get done from the DC office of Leh or any travel agent's shop present there.
Due to Khardung La Pass being included in the list of highest places in Ladakh, the amount of oxygen is very less there, due to which the possibility of altitude sickness increases when visiting there.
If you are going to Khardung La pass, then definitely take medicine etc. with you to avoid attitude sickness, else you may fall victim to attitude sickness.